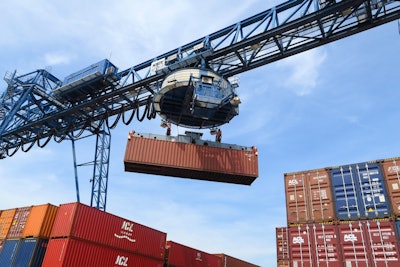 The Ukraine-Russian war continues to create waves in the U.S. agricultural industry and could quickly create a global food crisis.
Last Thursday, Russia decided to "temporarily suspend fertilizers exports," the Russian Industry Minister announced, after Putin said, "we don't want to have such price rises on the Russian food market."
Seeking Alpha reports the announcement comes a week after a statement from the Russian Trade Ministry said "the Ministry had to recommend Russian producers temporarily suspend export shipments of Russian fertilizers until carriers resume rhythmic work and provide guarantees that Russian fertilizer exports will be completed in full."
The U.S. imports approximately 96% of the nation's potassium fertilizer from Russia, including 1 million short tons per year, according to Michigan Potash & Salt Company.
In 2021, the U.S. imported $1.28 billion worth of fertilizer from Russia, according to the United Nations COMTRADE database on international trade.
New Russian sanctions could hit fertilizer
On Friday, President Biden announced the U.S. and its allies would revoke Russia's 'most-favored nation' trade status.
According to USA Today, PNTR stands for permanent normal trade relations. This is the legal definition that the U.S. uses when there is free trade with a foreign nation.
The World Trade Organization allows countries to give each other a most favored status, meaning that goods can be exchanged between countries with lower tariffs, fewer barriers and a maximum amount of exports allowed.
Congress introduces bill to provide relief from ITC tariffs

Also on Friday, Sen. Roger Marshall, M.D., and Rep. Tracey Mann introduced the Emergency Relief from Duties Act, which would create emergency waivers for duties levied on fertilizers by the U.S. International Trade Commission.
"Fertilizers and other inputs have been at an all-time high, and the war in Ukraine promises to drive up the price of products even more," said Iowa farmer and National Corn Growers Association President Chris Edgington.
"Fertilizers have become increasingly hard to secure and pay for because of tariffs or the threat tariffs on imports. That's why passage of this legislation would come as a welcome relief to farmers across the country."
The bill comes as the U.S. International Trade Commission (ITC) levied tariffs against imports of phosphate fertilizer at the behest of a U.S. fertilizer company. A petition for additional tariffs on urea ammonium nitrate is also being considered by ITC.
This bill would introduce a pathway to establish a waiver of countervailing duties or anti-dumping duties for a year if there is an emergency situation including natural disasters, war, epidemics, labor disputes or major accidents.
Global food crisis brewing
On Monday, Russian fertilizer and coal billionaire Andrei Melnichenko told Reuters that a global food crisis looms unless the war in Ukraine is stopped because fertilizer prices are soaring so fast that many farmers can no longer afford soil nutrients.
"One of the victims of this crisis will be agriculture and food," said Melnichenko, who founded EuroChem, one of Russia's biggest fertilizer producers.
The war "will lead to even higher food inflation in Europe and likely food shortages in the world's poorest countries," he said.