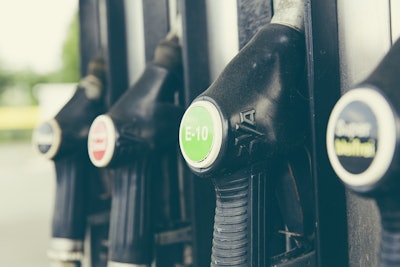 On Friday, the U.S. Environmental Protection Agency (EPA) issued biofuel blending mandates for 2022 and the prior two years -- with this year's number below one proposed in December - while denying oil refiners waivers to be exempt from the requirements.
Reuters reports the EPA set biofuel blending mandates for 2022 at 20.63 billion gallons and retroactive volume mandates for 2021 at 18.84 billion gallons and for 2020 at 17.13 billion gallons. Though it denied the oil refiners' exemption petitions, the agency said it would allow extra time for small refiners to meet their 2020 blending obligations.
The EPA says together these actions reflect the Biden Administration's commitment to reset and strengthen the Renewable Fuel Standard (RFS) program, bolster the nation's energy security, and support homegrown biofuel alternatives to oil for transportation fuel.
"At EPA, we are laser-focused on providing more options for consumers at the pump, and today we are taking steps to increase the availability of homegrown biofuels," said EPA Administrator Michael S. Regan.
"These actions will help to reduce our reliance on oil and put the RFS program back on track after years of challenges and mismanagement," Regan continued.
"We remain committed to working with all RFS stakeholders to build on today's actions and deliver certainty and stability in the RFS program."
Final volume adjustments
In the final volumes, EPA adjusted the final biofuel volumes for 2021 to reflect updated data on actual 2021 ethanol use that has become available since the proposal was issued.
A summary of the final volume requirements for 2020-2022 is provided below:
In addition to finalizing the volume requirements, the rule also finalizes a regulatory framework to allow "biointermediates" to be included in the RFS program, while ensuring environmental and programmatic safeguards are in place.
Biointermediates are feedstocks that have been partially converted at one facility but are then processed into an RFS-qualified biofuel at a separate facility. Providing a way for producers to utilize biointermediates may reduce biofuel production costs and expand opportunities for more cost-effective biomass-based diesel, advanced, and cellulosic biofuels.
This new regulatory framework will allow new facilities looking to make advanced, innovative biofuels to qualify under the RFS program, expanding access to the program for biofuel producers and increasing compliance flexibility.
Separately, and recognizing the growing importance of renewable diesel as a biofuel, earlier this year EPA proposed a rule that would find that renewable diesel and other biofuels made from canola oil would qualify as advanced biofuel under the RFS. The agency is on track to finalize this rule by the end of this year. This step to approve additional pathways for generating renewable identification numbers (RINs) under the RFS program will enable additional biofuel supplies to enter fuel markets.
Small refinery exemption (SRE) actions
Separately, EPA is announcing a suite of small refinery exemption (SRE) actions.
These include a final decision to deny a set of previously pending SRE petitions spanning the 2016–2021 compliance years, a proposed rulemaking to provide an alternative schedule for small refineries to comply with their 2020 RFS obligations, and a revision to an earlier action that provides an alternate compliance approach for certain small refineries for the 2016, 2017, and/or 2018 compliance years.
NCGA: Supports access to higher blends
National Corn Growers Association (NCGA) President Chris Edgington said these recent actions by EPA will support access to higher blends of ethanol, saving consumers money at the pump and cutting greenhouse gas emissions.
"More ethanol in the fuel supply saves Americans money at the pump and lowers greenhouse gas emissions," said Edgington.
"Higher renewable fuel volumes for this year, which will increase and diversify our fuel supply, come at a crucial time as policymakers are working to lower fuel prices."
Ethanol is priced $1.42 less per gallon than unblended gasoline at wholesale today, and drivers currently save up to 20 cents or more per gallon where E15 is available.
Ethanol reduces GHG emissions by 50% compared to gasoline and replaces the most toxic gasoline components to cut air pollution, says NCGA.
"When President Biden visited an Iowa ethanol production facility in April, he said ethanol reduces our reliance on foreign oil, creates choice and competition at the pump for better prices, creates good-paying jobs and reduces greenhouse gas emissions," said Edgington.
"Farmers agree, and the increased RFS volumes for 2022 and denial of pending refinery exemptions will advance these objectives and move renewable fuels forward."
While Edgington praised EPA for the strong forward-looking 2022 renewable fuel volumes, he expressed disappointment the agency made an unnecessary retroactive reduction of 2020 RFS volumes.
The RFS already self-adjusts for declining fuel use, such as occurred in 2020, and this further reduction rewards the use of more oil at the expense of the environment, he said.
ASA pleased with EPA announcement
While slightly lower than originally anticipated in December, soybean farmers remain pleased with the blending volumes announced by the EPA on Friday.
The 2022 finalized rule aligns with levels previously determined by Congress, setting the 2022 BBD volumes at 2.76 billion gallons, up from 2.43 billion for 2020 and 2021.
The 2022 overall volumes are set at 20.63 billion gallons and retroactive volumes for 2021 at 18.84 billion gallons, 2020 at 17.13 billion gallons.
These are the largest-ever volumes for total renewable fuels and specifically for BBD since the renewable fuel standard was created, says the American Soybean Association (ASA)
"We are happy to see these RVOs that are so important to the soy industry being set significantly higher than in previous years and take this news as a sign of support for the Renewable Fuel Standard going into 2023," said Brad Doyle, ASA president and soybean farmer from Weiner, AR.
"Additionally, we greatly appreciate the administration sticking to its commitment to no longer allow small refinery exemptions to continue being a means to skirt blending requirements."
EPA denied 72 pending petitions from small refiners, clearing the backlog of SREs. Going forward, the agency will require new methodology for evaluating petitions. The final rule also confirms EPA will restore the 500 million gallons of biofuels that were wrongly waived in 2016, with 250 million supplemented in 2022 and the other half in 2023.

USDA actions to lower costs for biofuel producers
Also on Friday, the U.S. Department of Agriculture (USDA) announced it is investing $700 million to help lower costs and support nearly 300 biofuel producers in 25 states who faced unexpected market losses due to the COVID-19 pandemic.
The funds are being made available through the Biofuel Producer Program, which was created as part of the Coronavirus Aid, Relief, and Economic Security Act (CARES Act).
The investments include more than $486 million for 62 producers located in socially vulnerable communities.
The Biden-Harris Administration is committed to rebuilding the rural economy after the impacts of the pandemic, said USDA Secretary Tom Vilsack.
"That's why USDA is targeting resources and investments to improve the strength and resiliency of America's sustainable fuel markets," said Vilsack.
"The investments we're announcing will pave the way to economic recovery for America's biofuel producers, stimulate a critical market for U.S. farmers and ranchers, and support our nation's transition to a clean-energy economy."
USDA making payments to biofuel producers
USDA is making payments to 195 biofuel production facilities to support the maintenance and viability of a significant market for agricultural producers of products such as corn, soybean or biomass that supply biofuel production.
These biofuel producers experienced unexpected market losses on a combined 3.7 billion gallons as a result of COVID–19.
For example:
In Iowa, Southwest Renewable Energy LLC is receiving a payment of $3 million. It suffered a market loss on 14.3 million gallons of ethanol due to the pandemic.
In Illinois, Adkins Energy is receiving a $774,000 payment. Its biomass-based diesel production suffered a market loss on almost 3.5 million gallons due to the pandemic.
In Texas, White Energy Holding Company is receiving a $21 million payment for production at two facilities. Its ethanol production suffered a market loss on 98 million gallons due to the pandemic.
The investments USDA is making will support biofuel producers in California, Colorado, Georgia, Hawaii, Illinois, Indiana, Iowa, Kansas, Kentucky, Massachusetts, Michigan, Minnesota, Missouri, North Carolina, North Dakota, Nebraska, New York, Ohio, Pennsylvania, South Dakota, Tennessee, Texas, Utah, Virginia and Wisconsin.