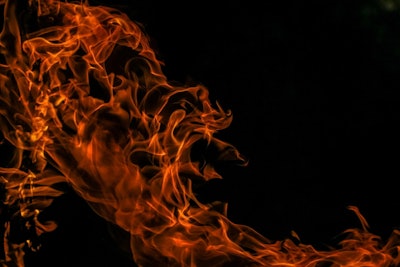 Explosive atmospheres usually occur in process engineering equipment such as filters, silos, elevators, mixers and mills.
In the event of internal or external ignition sources, an explosion could develop inside the equipment as well as propagate throughout the connecting components.
Explosion protection is designed to reduce the effects of an explosion and is the most effective way to properly protect a process.
The explosion protective measures include conventional explosion venting using explosion vents, flameless venting, explosion isolation, and chemical suppression. With so many options, what is the best choice for a given application? Here are a few examples of how and when to apply these protection devices.

Example 1: Filters/Dust Collectors
The risk of an explosion is particularly high in filter systems. The very fine dust is suspended in the filter and can trigger an explosion if an ignition source is present. Filters located outdoors are generally protected with explosion vents.
In the event of an explosion, the vent opens at a designed set pressure. This releases the explosion outward and reduces the pressure build-up inside the vessel.
As no two processes are identical, there are various types of explosion vents that differ in terms of shape, material, temperature rating, and pressure/vacuum resistance. Even hygienically demanding processes can be protected nowadays with certified hygienic explosion vents.
If there are walkways, driveways, equipment, or buildings in the direction of the explosion blast, an add-on module such as the REMBE TARGO-VENT can be used.
The TARGO-VENT limits the opening angle of an explosion vent to direct the explosion pressure, flames, and heat upwards. In this way, the hazardous area is now above the explosion panel and plant personnel and property are safe below the panel.
Indoor filters can also be protected with explosion panels connected to a vent duct that leads the explosion safely outdoors. Alternatively, flameless venting is an economical and effective solution for protecting indoors filters. Different manufacturers use various technologies for flameless venting.
REMBE, the inventor of flameless venting, offers three different products: Q-Rohr, Q-Box and Q-Ball.
Flameless vents work with special metal mesh that absorb the heat energy of an explosion thus extinguishing flames and ensuring no hot particulates escape the flameless vent. The subsequent pressure and noise levels are also reduced to an acceptable and harmless minimum.

In addition to the special stainless-steel mesh filter, the Q-Rohr, Q-Box and Q-Ball consist of an explosion vent with an integrated burst indicator.
This signal can be interlocked to the control system in order to shut down the process when the vent opens. Flameless venting is a good alternative to chemical suppression devices for smaller volume applications (<100 m³) – especially in terms of maintenance costs.

Example 2: Spray Dryers
Whether in the food, chemical, or pharmaceutical industry, spray dryers naturally have a suspended dust cloud as the product dries throughout the vessel. The most frequent ignition sources are glowing embers, damage to rotary nozzles, and hot bearings or sparks due to an imbalance. This dust cloud coupled with these potential ignition sources creates a well-known industry hazard.
With that being said, it's important to protect yourself from "overengineering." The protection measure that makes sense for your plant depends on the volume of the spray dryer to be protected, its respective installation site, and strength.
Spray dryers are usually protected with conventional explosion vents with a vent duct or flameless venting if the vessel is too far away from an outside wall. Additionally, the connecting pipelines are usually isolated. The aim is to prevent the propagation of pressure and flames thus protecting connected equipment such as fluid bed dryers, cyclones and filters.
The REMBE EGV-HYP and ERO explosion vents can be used in these hygienically demanding processes. The EGV-HYP panel features a full surface, tapered sealing system that fits flush with the interior of the explosion vent and prevents cross contamination.
Additionally, insulation is commonly included so the explosion panel does not become a cold spot and cause condensation. The EGV-HYP can even be curved to match the radius of the spray dryer thus eliminating any flat surfaces. These features make it compatible with CIP processes ensuring the panels maintain a sanitary process.
Example 3: Elevators and Conveyors
There are various venting options for the wide range of conveyors. Due to the functional and design-based conditions, elevators represent a special source of danger. Conveying a large amount of (combustible) bulk material carries a high risk for an explosion.
As with the previously mentioned equipment, outdoor elevators and conveyors are usually protected with explosion vents if the explosion can be released to a safe area. Alternatively, REMBE Q-Box or Q-Ball flameless vents can be used indoors or in outdoor areas near personnel and other equipment. A combination of conventional and flameless venting can be the right safety concept depending on the conditions at the installation site.
Some elevators are considerably tall so REMBE has developed a comprehensive protective system for these applications named ElevatorEX.
This is the first type-tested complete protective system for elevators that is a suitable solution for all types of elevators. It combines the advantages of conventional venting, flameless venting, and explosion suppression technologies.
Example 4: Silos
Silos are critical plant components when it comes to explosion protection. An explosive dust-air mixture can form during the filling and emptying processes as dust is suspended in the larger volume. If it is not possible to exclude all potential ignition sources, silos must be protected and isolated.
Outdoor silos are generally vented with explosion vents – different types can be used depending on the type of filling process. REMBE® can create modified version of our EGV panels in semi-circular and trapezoidal shapes. These can fit on top of silos that may have limited real estate available due to bin vents and other duct work. If the silo is indoors then explosion vents can be used with vent ducts or the REMBE® Q-Box/Q-Rohr flameless vents can be utilized.
Final thoughts
Explosion protection measures can only be safe and economical if the entire system is analyzed and individual protective measures are coordinated. This requires a systematic approach as well as observance of system-specific boundary conditions and knowledge of methods for assessing safety-related parameters.
REMBE can help determine this optimal protection system through our engineered approach and plethora of products. This ensures you stay safe with tested and proven equipment for each application.
About REMBE Inc.
For over 45 years, REMBE has been and continues to be a leader in the innovation and manufacture of high-quality process safety systems, explosion protection systems and dynamic weighing systems.