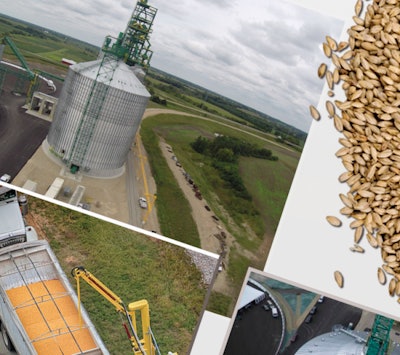 The 2019 fall harvest had its share of challenges. With estimates that 90% of the crop was not harvested until early December, there were many fields of grain not harvested before freezing, hurting grain quality as grain froze before reaching maturity — and leading to grain being harvested in very wet conditions.
"When it comes to mycotoxins, most growth occurs in the field," explains Dirk Maier, Ph.D., P.E., Iowa State University (ISU), Agricultural & Biosystems Engineering Department. "High moisture in the field creates the toxin growth, which is then carried into storage."
The moisture content of grains at the time of harvest is critical to preventing and controlling toxins once they enter the bin, says Mark Tess, Ph.D., mycotoxin product manager at Charm Sciences, Inc., Lawrence, MA.
"If grains were not stored at the right temperatures or corn was not dried down properly, then mycotoxin growth could occur," he says. "Having wet grain in a bin makes it an excellent center for continued fungal growth that can result in increased mycotoxin concentrations."
The importance of testing
Today's global grain industry is very complex. The diversity of growing conditions, plant varieties, processing techniques and industry requirements presents many challenges.
Today's manufacturers, consumers and regulators also demand more when it comes to quality, safety and uniformity. Under the Food Safety Modernization Act (FSMA), for example, requirements for both Human and Animal Food Safety Plans outline that various hazards must be identified and controlled before, during and after production, says Tess.
"Every commodity, whether intended for human or animal consumption, has a different risk level for various toxins," he says. "Testing at the start of the supply chain (for animal or human) provides the grain industry with the best options for sorting the supply so that each customer receives grain that is below their identified risk factors."
Martina Bellasio, Ph.D., product manager with Romer Labs, Newark, DE, agrees explaining crops contaminated with mycotoxins have various toxic effects for humans and animals.
"Testing for mycotoxins in grains will ensure that the grains will be compliant with the regulations in place, but also that the grains will not pose a threat to the health of humans and animals," she says.
Whether organizations are working with wheat, rice, corn, soybeans, feed or other products, rapid and accurate analytical results can help drive better business decisions and a stronger food chain.
"Probably the biggest reason to test grain is that it's a biological product and varies significantly from year-to-year and even region-to-region in the same year," says Wes Shadow, market manager for grain at PerkinElmer, Waltham, MA. "Identifying that variation and mitigating when needed or taking advantage when possible, can help grain companies and processors make better decisions."
Testing best practices
Test kits are the first line of defense for producers and exporters to ensure regulatory compliance in order to protect human and animal health.
Testing at a grain elevator depends on several factors: the growing conditions in a region; government requirements for a certain commodity and its associated mycotoxins; export needs; customer requirements; and storage conditions at the elevator.
"Based on these factors, each elevator must perform a risk assessment to determine what their frequency of testing will be in order to meet their own requirements for controlling and reporting mycotoxin levels to their customers," says Tess.
Many facilities are increasing their testing at point-of-receipt to include all incoming loads for multiple toxins in order to minimize their risk against identified hazards in theirs and their customer's Food Safety Plans.
While there is no industry requirement for testing every load of grain at an elevator, it's a good idea to implement a mycotoxin testing plan into your best practices.
Generally, it's best to constantly monitor incoming grains and storage of those grains for mycotoxin growth, says Shadow. "This catches the presence of mycotoxins early on and helps to avoid higher costs and production problems later on," he says.
Obtaining the best sample
While frequency of testing is very important to control mold contamination, sampling of loads is also critical for accurate detection. In extreme cases, mycotoxins may only be present in a few ears or heads in an entire field.
"This means that some kernels may contain high toxin levels while others contain no toxin at all," says Bellasio. "Fungi do not grow evenly throughout a field or a bin of grain, thus, mycotoxins tend to be concentrated in certain 'hot spots.'"
When testing for mycotoxins, several small samples should be taken randomly and composed into one larger "lot sample." For this sample to be considered representative, it must be obtained with appropriate equipment, such as a probe for stationary grain or pelican sampler for moving grain, and it must be an appropriate size, which depends on the lot size and the commodity.
A representative sample is important because elevators could test a load for mycotoxins and receive results of contaminated samples, but another test performed on the same load may show it's negative for mycotoxins – all because of the sampling plan.
"This could lead to different or even conflicting results on test methods when tested at the grain elevator," says Mark MacBeath, food safety platforms leader at PerkinElmer. "These differences can ultimately lead to resource and efficiency waste in terms of time, money and manpower."
The USDA and other organizations provide several guidelines around proper sampling to help elevators minimize that waste, says MacBeath.
Mycotoxin test selection
When selecting a mycotoxin test kit, there are several important features grain facilities should look for, including: ease-of-use, which reduces training times for technicians and eliminates costly errors in testing protocols; accuracy of test method; and sensitivity of the test to ensure all regulations are followed.
Other factors to keep in mind:
Speed – Quick tests help make instantaneous decisions during receiving to prevent contamination from entering the supply chain and minimize bottlenecks as truckloads enter the facility.
Approvals – Is the test approved by USDA/FGIS? Has the test kit been certified? Is it validated for all commodities that will need to be tested?
Versatility – Can the system test for more than one toxin?
Solvent – Is the system water-based or does it require organic solvent? (If using an organic solvent, storage and disposal will need to be considered.)
Ease of Use – How many steps are involved to get a result?
Data Management – Can the data be downloaded to a network or centralized database?
Support – What kind of training and support is provided by the manufacturer?
Increased awareness leads to better quality
FMSA guidelines have caused companies to become more aware of the various toxins and how these toxins affect the global and domestic supply chain.
"This increased awareness has driven the need to develop better and faster methods, to test commodities at point-of-receipt, and to prevent toxins from entering the food/pet supply," says Tess with Charm. "Data management is important, and companies desire real-time results in a centralized office so they can manage the supply chain and routing demands. Customers want assurance from their suppliers that their purchases meet or exceed their risk expectations."
Bellasio with Romer Labs says they're seeing a trend toward multi-mycotoxin testing. "There is increasing evidence that many fungal metabolites have toxic effects on animals," she says. "The simultaneous presence of several mycotoxins can exponentially increase the toxicity of a sample – this is what is called synergistic effects in mycotoxin toxicity."
With tests becoming easier to use and more affordable for testing, mycotoxin outbreaks can be reduced with proper testing regimens throughout the entire supply chain.
"Following existing guidelines for mycotoxin monitoring will ensure each grain load has maximum ability to increase efficiency for the elevator and all parties downstream," says Shadow with PerkinElmer.
Shadow says faster and better testing methods coming to the forefront will increase the accuracy of screening while reducing training times for part-time technicians. ■
MYCOTOXINS AT A GLANCE
Given last fall's harvest conditions, sources agreed that we have the potential to see DON, aflatoxin, fumonisin and zearalenone this summer.
"Wet, cool harvests generally promote vomitoxin (DON) and zearalenone. Since a significant part of the corn crop was under snow for some time, it is a more unusual situation last year than in recent years," says Mark MacBeath at PerkinElmer. "The real kicker, however, is that the forecast is for a significantly dryer and warmer season this year – which can promote aflatoxins and fumonisin. So, it could be a bit of a double whammy this year."
Mycotoxins can be particularly troublesome in wheat and other cereal grains because, once produced, mycotoxins are chemically stable at high temperatures, meaning they can travel all the way through the food supply chain.
■ DON, a.k.a. deoxynivalenol or vomitoxin, this mycotoxin occurs predominantly in grains such as wheat, barley, oats, rye and corn, and less often in rice, sorghum and triticale.
■ Aflatoxins are poisonous carcinogens and mutagens that are produced by certain molds which grow in soil, decaying vegetation, hay and grains.
■ Fumonisin B1 is the most prevalent member of a family of toxins, known as fumonisins, produced by several species of Fusarium molds, such as Fusarium verticillioides, which occur mainly in corn, wheat and other cereals.
■ Zearalenone is heat-stable and found worldwide in various cereal crops, such as corn, barley, oats, wheat, rice and sorghum.