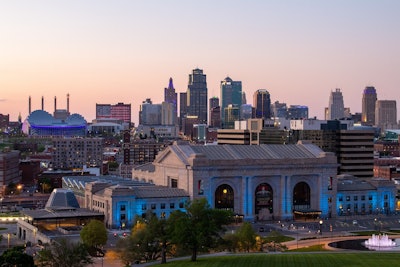 The Grain Elevator and Processing Society (GEAPS) is looking forward to seeing grain industry professionals gather in the heart of America during GEAPS Exchange 2022, which will be held March 26-29 at the Kansas City Convention Center in Kansas City, MO.
The conference includes an expo hall filled with technology and services to make grain operations safer and more efficient, education on the latest trends and best practices, a day just for students, and social events that help reinforce business relationships.
"One of my favorite things about the conference is the opportunity to see our peers and network in person," says GEAPS International President Barb Grove, CGOM, Central Valley Ag. "I'm excited to see all the new products in the industry, catch up on best practices and make new connections to help my company."
The latest technology and services
GEAPS Exchange is a great way to see what's new in the industry and to find the latest equipment for your operation.
The expo hall features hundreds of exhibitors, many of whom bring products to the show. On the following pages, we've highlighted some companies you'll find at the show.
Sessions inside the expo hall include a grain entrapment rescue demo and small-group presentations on innovation and technology.
Beyond the expo hall, the Idea Exchange showcases new products in the industry and innovative ideas that facility managers have recently implemented to improve operations.
Education continues throughout the event with workshops and interactive sessions in the hall and hour-long learning sessions. The education schedule includes:
Keynote speaker, 8 a.m., Sunday, March 27
Idea Exchange, 10 a.m. Sunday, March 27
Hour-long education sessions: Monday, March 28, and Tuesday, March 29
Closing Workshop, 2 p.m., Tuesday, March 29
For more information, visit geapsexchange.com.
Be Seen & Win $100!
Nothing's more exciting than the thrill of victory, especially when the prize is cold, hard cash. If you're attending the GEAPS Exchange conference and trade show in Kansas City from March 26-29, you may be lucky enough to experience just that!
Each day of the expo, Feed & Grain will be giving away $100 to two attendees on the trade show floor. All you need to do is get caught wearing a neon yellow safety vest that will be handed out at Feed & Grain's Exchange Booth 1612.
Vests will be available to pick up any time during trade show hours, but no one knows when our staff will surprise an unsuspecting vested attendee with the cash prize.
Entrants must be fully wearing the vest at the time of the giveaway to be eligible. In addition to receiving $100, the winner will be photographed at our booth and announced on social media.
The contest is not only a fun way for Feed & Grain staff to engage with you at the show, but also to encourage grain handling workers to start every shift by focusing on personal safety.
Reconnect with Friends
GEAPS Exchange includes several fun social events that highlight the character and flavor of the host city. Social events include:
Get-Acquainted Party, 7 p.m., Saturday, March 26
Welcome Reception, 4:30 p.m., Sunday, March 27
Closing Reception, 3:30 p.m., Tuesday, March 29