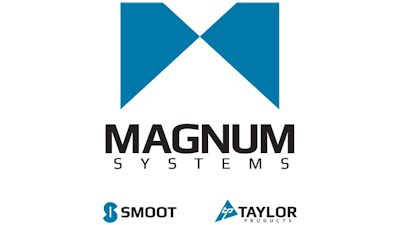 Magnum Systems, Inc. has officially launched its Quick Ship Program for select standard bagging scales to further improve lead times for customers.
The entry-level bagging scales Models OM-2 and TE-100 have been some of Magnum Systems, Inc.'s most popular bagging machines and an industry-standard in agriculture for many years.
In the past, Magnum Systems, Inc. kept stock on all of the parts and subassemblies that make up these baggers, so thier lead times have never been much more than about five days on a standard item and no more than two weeks with a customized feature or two.
The OM-2 Model bagging machine is a great solution for entry-level bagging operations that package dry, free-flowing, granular products. The OM-2 is one of the simplest baggers on the market but doesn't lack anything in performance. It's been manufactured for more than 40 years and we have more than 3,000 installations worldwide.
The TE-100 Model bagging machine is also designed for dry, free-flowing, granular products and will outperform many comparable baggers with superior features like its bulk /dribble fill cycle, bag in place switch, and auto-correct weight feature. Over the last 30 years, there are more than 2,000 installations across the globe.
The new quick ship program has a dedicated sales, order entry, and production team that only focuses on stock bagging equipment. This will ensure great customer response from sales quotations to order fulfillment. The company built up an inventory of complete baggers on both models, ready to ship. The majority of orders will be filled and shipped within one business day of ordering.