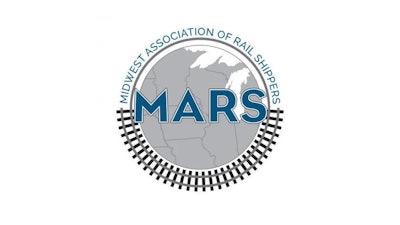 A slate of new officers — along with a new executive director — were introduced at the recent Winter Meeting of the Midwest Association of Rail Shippers (MARS).
The Winter Meeting set a record for MARS with more than 950 attendees. The next gathering will be the Summer Meeting scheduled for July 10–11 in Lake Geneva, Wisconsin.
The 2023 MARS officers are: President Kathy Bathurst, CSX Transportation, Riverdale, Illinois; First Vice President Matt O'Kray, Transtar, Chicago, Illinois; and Second Vice President Steve Blinn, Norfolk Southern, Orland Park, Illinois. The Immediate Past President is Carrie Evans, Iowa Interstate Railroad, Cedar Rapids, Iowa.
New members of the MARS Executive Committee are: Peggy Emeis, Watco Companies, Kalamazoo, Michigan; Doug Grewe, Packaging Corporation of America, Lake Forest, Illinois; Brian Jonaitis, The Indiana Railroad Company, Indianapolis, Indiana; and Grant Keyser, TrinityRail, Dallas, Texas.
The MARS leadership team will be supported by incoming Executive Director Tracy Stein. She replaces William Schauer who has retired after serving the association for 15 years.
"While the MARS membership will greatly miss Bill Schauer and his tireless efforts to support the organization, we are very excited to welcome Tracy Stein as our new executive director," said President Kathy Bathurst. "We look forward to Tracy's perspective and expertise, as we move forward with our 2023 events."
Bathurst said the recent Winter Meeting included some new features—such as the Women in Transportation Reception and an expanded Vendor Exhibition—that were well received and provided excellent networking opportunities.
The Summer Meeting on July 10–11 will be held in conjunction with the MARS Scholarship Golf Outing at the Grand Geneva Resort. More information about the Summer Meeting will be available in the coming months at: www.mwrailshippers.com /event/2023-summer-meeting.