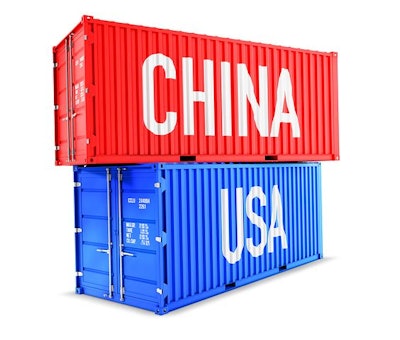 -US/China Talks Bring No Immediate Fixes
-Wheat Tour Wraps Up with Low Crop Yield Estimate
-US Weather looks mostly Favorable
US/China Trade Talks
China and the United States have reached a consensus on some areas of their trade dispute but are still relatively far apart on other issues, China's official Xinhua news agency said on Friday.
The U.S. trade delegation asked China to cut a bilateral trade imbalance immediately and to stop subsidising advanced technology, a Wall Street Journal reporter wrote on Twitter, citing a document issued to the Chinese before talks.
Paul Burke from US Soy Export Council in Beijing said if no agreements are reached which move away from the direction of tariffs, then the status quo will lead to lost sales for US farmers.
China said it would actively consider information provided by US firms on ongoing US sorghum anti-dumping investigation.
Day 3 Wheat Tour
The 3-day armada of over 600 KS wheat field samples returned a 37.0 bushels per acre average for the state, while pegging production at 243.3 MB. Last year's tour put yield at 46.1 bushels per acre.
The KS crop tour tends to overestimate yield as compared to USDA's forecast in May. On average over the last 18 years, the KS Crop Tour has exceeded USDA's May Yield forecast (which comes next Thursday, May 10th) by 1.5 bushels per acre, and they have only been lower than USDA in about ⅓ of the years.
Their bias has been worse of late. In each of the last 7 years they have come in higher than USDA's May forecast, missing the mark by 4 bushels per acre on average.
US Weather
Parts of IA/MN/WI saw 1 to 2 inches of rain in the last day likely slowing planting.
After this storm blows thru IA should see 4 days of no rain into mid next week and temps in the 70s this weekend
Temps in ND/SD/MN should be trending warmer than normal in the next 5 days helping kick start planting.
The latest GFS model has some rain potential in key growing areas in KS on May 12 with an inch or more of rain projected.
The risk of trading futures, hedging, and speculating can be substantial. Grain Hedge is a Branch of Foremost Trading LLC (NFA ID: 0307930)