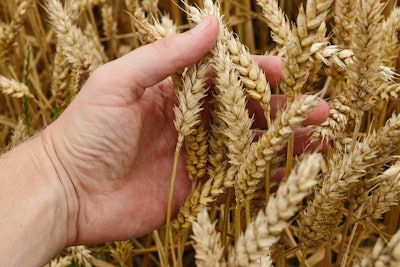 Wheat Futures Decline to10-Month Low on Adequate Supplies
Chicago SRW, Kansas City HRW and French milling contract have all experienced sharp declines on recent supply issues.
Recent wheat purchases by Egypt's GASC of 180,000 tonnes of wheat that saw business go to France, Romania and Russia that saw U.S. HRW and SRW excluded from the offer was a sign that U.S. wheat is the residual supplier to the world.
Despite the premium in Russian FOB spreads with other origins in the region: Romania, and Ukraine, domestic supplies may not be as tight as market analysts perceive. High domestic prices have stimulated farmer selling and the Russia's Agriculture Ministry continued sales of grain from its stockpile last week, when it sold 52,400 tonnes of wheat. The Russian government has sold 1.36 MMT of wheat during the current marketing year.
At 28.3 MMT, Russia wheat exports are +8% YoY from July 1 - February 21.
An estimated 50 MMT Argentina wheat harvest has the country doing export business in Asian countries and is filling the export vacuum lost by the drought in Australia.
Weekly CME registered HRW stocks at 106 MBU is slightly below the 2018 levels but has been at record levels for the most of the marketing year.
How Does This Impact the U.S. Farmer? As HRW wheat has begun to break dormancy there will be some weather risks that the crop will incur but these are annual risks. With U.S. winter wheat acres at multi-generational lows and a futures curve structure that incentivizes storing wheat, the domestic and global supply and demand fundamentals are not providing much a reason for a widespread price rally.
USDA Export Sales Announcement
Private exporters reported to the U.S. Department of Agriculture export sales of 120,000 metric tons of soybeans for delivery to Mexico. Of the total, 48,000 metric tons is for delivery during the 2018/2019 marketing year and 72,000 metric tons is for delivery during the 2019/2020 marketing year.
2019/20 South African Corn Crop Estimated At -20% YoY
South Africa is likely to harvest 20 percent less maize in 2019 compared with the previous season after drought conditions delayed plantings in some corn growing areas.
South Africa's corn harvest is expected to consist of 5.045 MMT of white corn and 4.917 MMT of yellow corn, which is primarily used as animal feed.
The government's Crop Estimates Committee (CEC), which will provide its first production forecast for the 2019 crop on Wednesday, is seen lowering the harvest at 9.96 MMT, down from the 12.510 MMT harvested during the 2018/19 season.
The crop, which is expected to be slightly less than South Africa's annual corn consumption of around 10 MMT, benefited from improved rainfall conditions after plantings were delayed particularly in the western part of the maize belt.
How Does This Impact he U.S. Farmer? While the U.S. corn producer is not an immediate beneficiary the decline in South African corn production, the tightening supplies could start to stress regional exportable feed commodities. While U.S. corn and feed inputs could struggle over the next few months inside a competitive global export market, U.S. corn will have go find a way to be competitive against Argentina, Uruguay and Brazil corn.
The risk of trading futures, hedging, and speculating can be substantial. FBN BR LLC (NFA ID: 0508695)