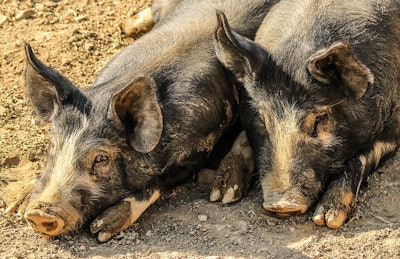 China's Sow Numbers Continue to Rise
China's sow herd rose 2.2% in December, further confirmation that the country is rebounding from the devastating effects of ASF.
Since September, the sow herd is up 7% and the hog herd began to rise in November, for the first time in a year.
China's sow herd declined by nearly 40% by last October, after African swine fever (ASF) killed millions of pigs and prevented many farmers from restocking farms.
Despite a decline in confirmed ASF outbreaks, colder weather can enhance the virus's ability to spread.
FBN's Take On What It Means: Signs of China turning the corner on its 40% loss in hog populations is encouraging for oilmeal demand. While still a long way to returning to where they were 18 months ago, it is directionally positive.
French Wheat Exports Continue to Outperform
France exported 1 million tonnes (MT) of soft wheat outside the EU during November, the highest monthly volume since the start of the 2019/20 year.
Total soft wheat shipments for the July-November marketing year are 7.15 MT +13% YoY.
France is the EU's largest grain producer.
French wheat exports are expected to increase after producing the second-largest harvest on record.
Noteworthy are the French wheat exports to China. Marketing year to date totals just over 400,000 tonnes of wheat exported to China.
FBN's Take On What It Means: At FBN, we believe that the French wheat data is not a surprise and is neutral for the U.S. farmer. The exports are indicative of a bumper wheat crop, tightening supplies in the Black Sea and a weak(ish) Euro. We believe that the French export volume to China is interesting and a reflection of trade tensions between the US and China along with tight supplies of US soft wheat.
The risk of trading futures, hedging, and speculating can be substantial. FBN BR LLC (NFA ID: 0508695)