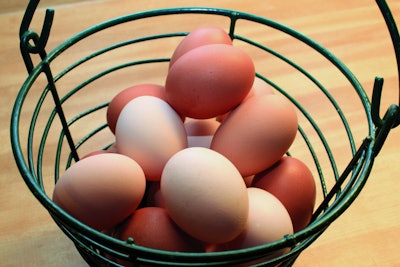 Andrea Gantz
The CEO of the nation's 15th largest egg producer is speaking out against the Ending Agricultural Trade Suppression (EATS) Act, saying that it "creates significant market turmoil."
The EATS Act, led by Sen. Roger Marshall, R-Kansas, and Rep. Ashley Hinson, R-Iowa, challenges the constitutionality of laws such as California's Proposition 12, which only allows the sale of pork from farms that don't use gestation crates and eggs from farms that only use cage-free laying systems.
Proponents of the legislation say that without the EATS Act, states like California can mandate agricultural production methods in other states, which is a violation of the commerce clause of the U.S. Constitution.
The EATS Act has the support of a variety of groups like National Egg Farmers, National Pork Producers Association, American Farm Bureau Federation and the National Cattlemen's Beef Association.
But it also has its opponents, including a group called Competitive Markets Action.
A press release from that group highlighted comments from Mark Sauder, CEO of Sauder's Eggs.
Presently, about half of the eggs produced by Sauder's are cage free.
Sauder's Eggs, headquartered in Lititz, Pennsylvania, and its farm partners have already invested heavily in cage-free egg production systems and converted a significant percentage of its production to cage free. The company has also worked with end consumers to get the facilities upgraded to standards compatible with Proposition 12 and similar state laws.
More specifically, Sauder said the company bought a $1 million complex where all hens were caged, and the company retrofitted half of it to cage-free. That process took several years to complete and cost about $15 million.
"For me, it creates significant market turmoil," Sauder said. "For it to be changed again, after we made the commitments, is not beneficial."
For the group of farmers that raise the company's layer hens, Sauder estimated the cost to retrofit to cage free at between $75 million and $100 million.
"We have significant capital invested in this process. In my view, the battle has already been fought. ... Now we are trying to revisit it," he says. "My goal is to provide a product that is wanted in the marketplace."
Sauder's Eggs, according to information from the WATTPoultry.com Top Companies Database, during the past year, had a flock of 6.42 million hens, making it the 15th largest egg producer in the U.S. It has facilities in Pennsylvania, Maryland and Ohio.