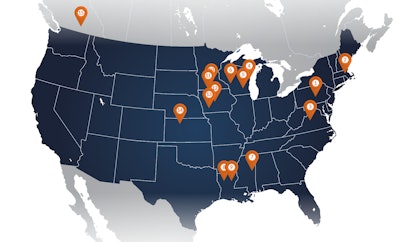 Advancements in milling technology happen every year, making the process more accurate, efficient and safer. Even mills that are a few years old quickly become out of date, which is why the industry is constantly investing in renovating, expanding and building new facilities.
We last published a map in the August/September 2022 issue of Feed & Grain, but new construction, renovations and expansions continue to appear across the U.S. The following 15 feed and grain milling construction projects use the latest technology to add value to locally produced grain.
Economic conditions, which had been volatile since the COVID-19 pandemic, have increasingly worsened, stunting large capital investments in North American milling capacity. Despite rising interest costs, supply lines in disarray and high inflation impacting all economic facets, some new feed, flour, corn and rice mills are being built and renovations are occurring.
The following list features newly completed and ongoing construction projects that will be completed in the next few years.